Four In A Row
Four In A Row is a highly addictive puzzle game in which you have to create a line of discs with the same color before your opponent does this.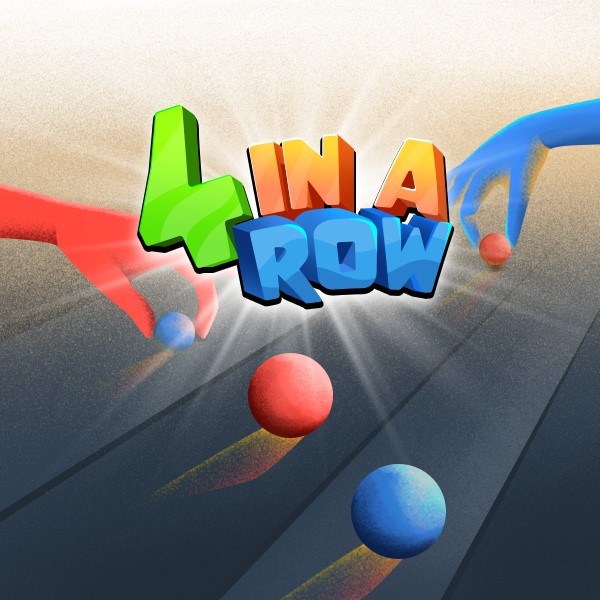 Your objective is to defeat your rival by creating a line of discs which have the same color first. To do that, you and your opponent have to take turns dropping a disc into the columns. Try to plan your winning moves in advance and anticipate the next possible moves of your opponent to react to his or her moves quickly and precisely. If you find out any group of three discs of your opponent, place your disc to block the fourth spot immediately. Keep in mind that the allotted time for each turn is only 30 seconds. Therefore, you must be fast to drop the disc before the time is over. Do your best to be the first one to make a designated line of discs to get a victory. Note that this line can be vertical, horizontal or diagonal. Look at the chat box on the left of the screen which allows you to chat with your rival as the game progresses.
Are you ready for this? Choose your favorite color and start playing this game now. The game offers 8 colors including green, light blue, dark blue, purple, pink, red, orange and yellow to select freely. In addition, you can choose 3 field sizes including default, stretch and large.
A default size features 7 cells in a row and 6 cells in a column.

A stretch size features 9 cells in a row and 4 cells in a column.

A large size features 9 cells in a row and 6 cells in a column.
Primarily, you are allowed to decide the winning condition by choosing one of the winning conditions in the settings. There are a total of 4 options including Three In A Row, Four In A Row, Five In A Row and Six In A Row that you can choose for free. If you select a Three In A Row mode, you must connect 3 identical discs to become the winner. Similarly, if you select the other winning conditions, you have to line up four, five or six discs (in order) to win.
This game features 3 modes including Online Players, Two Players, and Play Vs Computer modes.
For a Play Vs Computer mode, you must compete with the CPU. If you are just on the verge of discovering this game, choose this mode to practice with the CPU.

For an Online Players mode, you have to play with the other player. If you master this game, don't hesitate to choose this mode. In this mode, you can join any available room where you have to compete with a random player from different countries over the world. Besides, if someone sent you an ID before, click the By Room ID button and then enter this ID to enter the room. Moreover, you can create a public room or private room and then invite your friend to play this game with you.

A 2 Player mode allows you to play this game with your friend on a computer.
Come on! If you are a big fan of the classic game Connect 4, don't ignore this game. Click the Ready button to play it now and have fun. This game is beneficial for not only your strategic thinking but also your cognitive skills. Therefore, it can be played by players of all ages. Why don't you share this game with your friends or relatives and play it together?
Tips to win Four In A Row:
Drop your disc in the center column if you are the first player

Start creating your line from the center of the board

Try to guess the next possible moves of your opponent

Block the way of your rival if he or she gets 2 or 3 checkers in a row

Attempt to arrange your discs in the "7"' formation
Features of Four In A Row:
Three modes including Online Players, Two Players, and Play Vs Computer

A variety of colors, field sizes and winning conditions to select

Simple controls

Multiplayer